I draw live mainly to entertain friends and clients, and like most cartoonists, I draw fast. A lot the lines are accidents, which might not be perfect, but it's a trade for a look of spontaneity. (I got used to inking straight off probably because I've been working live caricature since puberty.) This isn't a good way to learn, it's better to draw in pencil and draw the shapes first. However, the look of THIS style is always free, fluid and fun and most importantly: instant.

Artist's personalities come out in their drawings. One example is: I can usually tell how uptight an artist's personality is by how angular or stiff their art is. I don't know if a scared, miserable or very god-fearing person could draw how i do. ha ha!


And for some reason, I draw funniest with a crowd watching me. Trained to entertain, I suppose.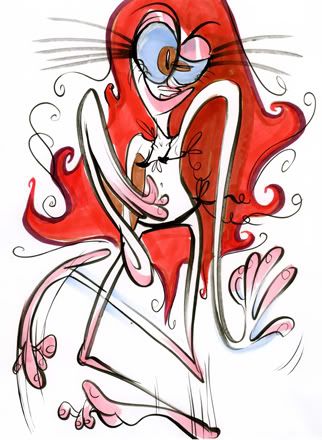 People are always asking me why i draw myself all the time. The real question is: "Marlo, why haven't you drawn myself more?!! I want to see you in every light and in unconventional situations! do what I say!"



Here's a present I made for katie while we were gabby

the end?

COMMENT DIRECTIONS: please include any self-diagnosed personality disorders you have