I was supposed to sit in eddie's Theory Chair while i explained, but theories take hard work! i decided to pick up my chair so it would be HARDER! (just wanted to paint a picture... you'll see my point later!)


My theory:

"To get good at drawing you have to work HARD."
is crappy advice!
It's just a generalized statement and I've seen many art students take it very literally when their teachers mention it.
When I think "work hard" I always pictured lifting heavy things up stairs, hard manual labor causing serious bodily pain, heart rates go up, you pant and sweat until you cant take the physical pain anymore.
Drawing isn't "hard work" in this sense. Many idiot students I went to school with not only took "working hard" literally, but thought that complaining about their suffering and non-enjoyment also contributed to their artistic improvement and also validated that they were talented. These people quite frankly made terrible work. Some of the things they would say would be: "my back is in so much pain from 1,000's of large brush strokes in the right hand corner, I spend so long on it, it was terrible" "I spent 19 hours on just this pencil rendering" "I should get an A because my hand hurts from making this" of course their designs were unappealing and lazy.
It is mentally difficult to achieve great drawings and improve. It's all about emotional endurance.
Marlo's Improvement Tips for students (these helped me):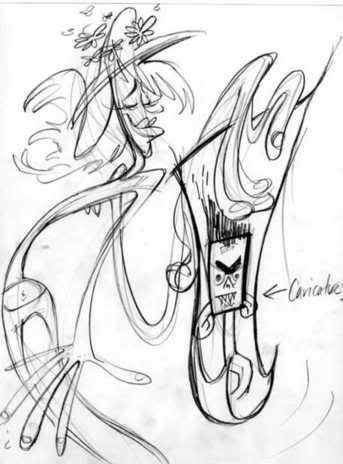 1. stop being such a pussy and take big risks!

2. Post and show your work to the world, especially If it's terrible! the embarrassment will fuel your research

3. Put time into your designs! over-rendering and garish colors don't make up for a bad initial drawing! (I'd rather see an appealing sketch than a stiff boring oil painting with a million information-less strokes!)

4. Study and compete with the masters, figure out why they made their decisions through studies.

(Here's an old study I did of EDDIE's work! I didn't know him or who's work it was then!) look:

5. Passion and love: draw what excites you (all the time)
The "LAZY" artist is the one that doesn't see through until a design is right, and doesn't confront his fears. The best artists are able to actually see how bad their work is and why, and they are emotionally strong enough to deal with it and improve. That is the hardest part.
DONE!
P. S. sorry I haven't posted in a while, I'm doing secret exciting stuff! more drawings I promise!